Corporate Committees
The promise of a splendid day!
A simple formula to allow your company's staff to benefit from attractive rates.
Are you looking to provide your employees with a unique way of thanking them for their hard work throughout the year? Maybe they are celebrating a work anniversary or perhaps you are looking for that 'special' Christmas gift to give to your employees? A gift that really says thank you and that they can enjoy with their family or close friends !
When you purchase 20 or more entry tickets to Les Aigles du Léman, you will receive the reduced price of 14 euros per person (adult) per ticket. This is a reduction of 3 euros per person and would be the perfect way of thanking your employees for their loyalty and dedication to their job. And when you purchase 20 or more tickets, we will arrange for the tickets to be posted directly to your office, free of charge. CC Price : Entrance day park: adults 13 € – Child 10€ –
Your custom show
To celebrate an event: Christmas tree, end of year meal or EC evening. We offer personalized shows on the park or at your place of celebration.
And new! the possibility of a guided tour of the world's largest aviary of birds of prey , Terre des Aigles, accompanied by our guide – supplement 2 euros per person, from 20 people – to be reserved.
Should have any questions or to book your tickets directly, please feel free to contact us on 04 50 72 72 26 or by email at info@lesaiglesduleman.com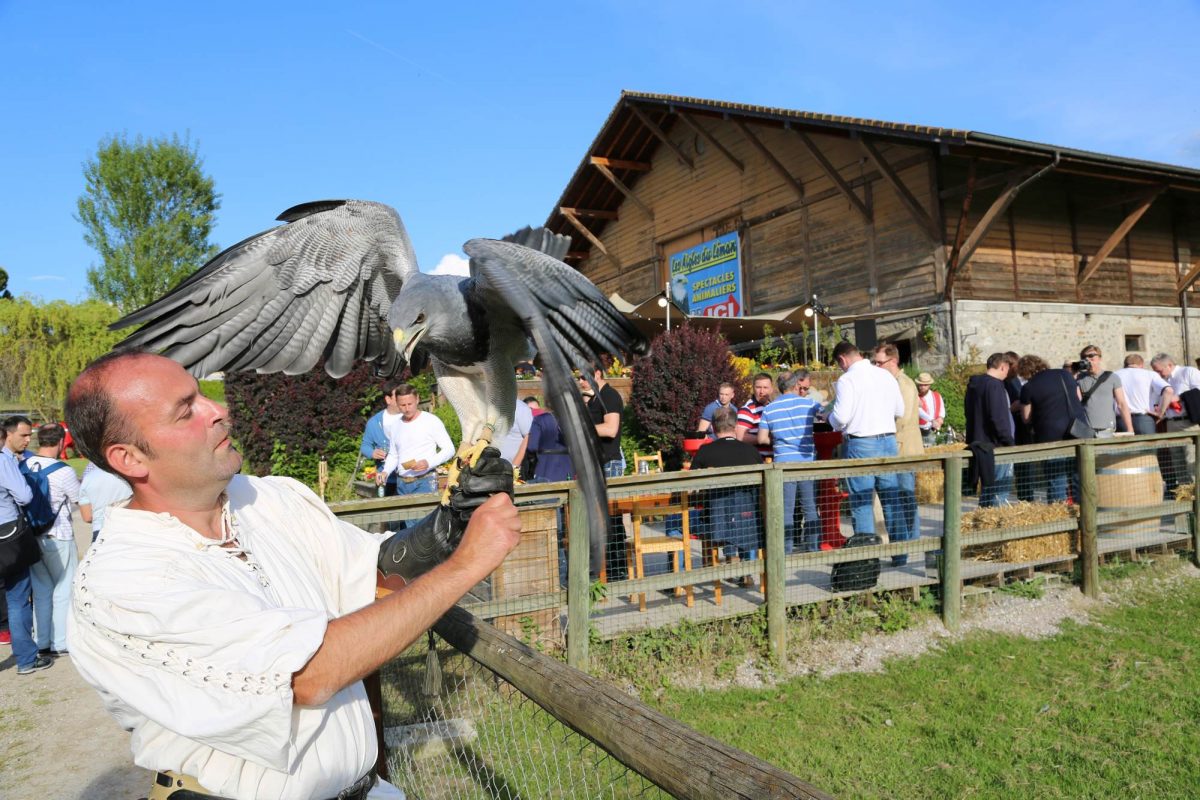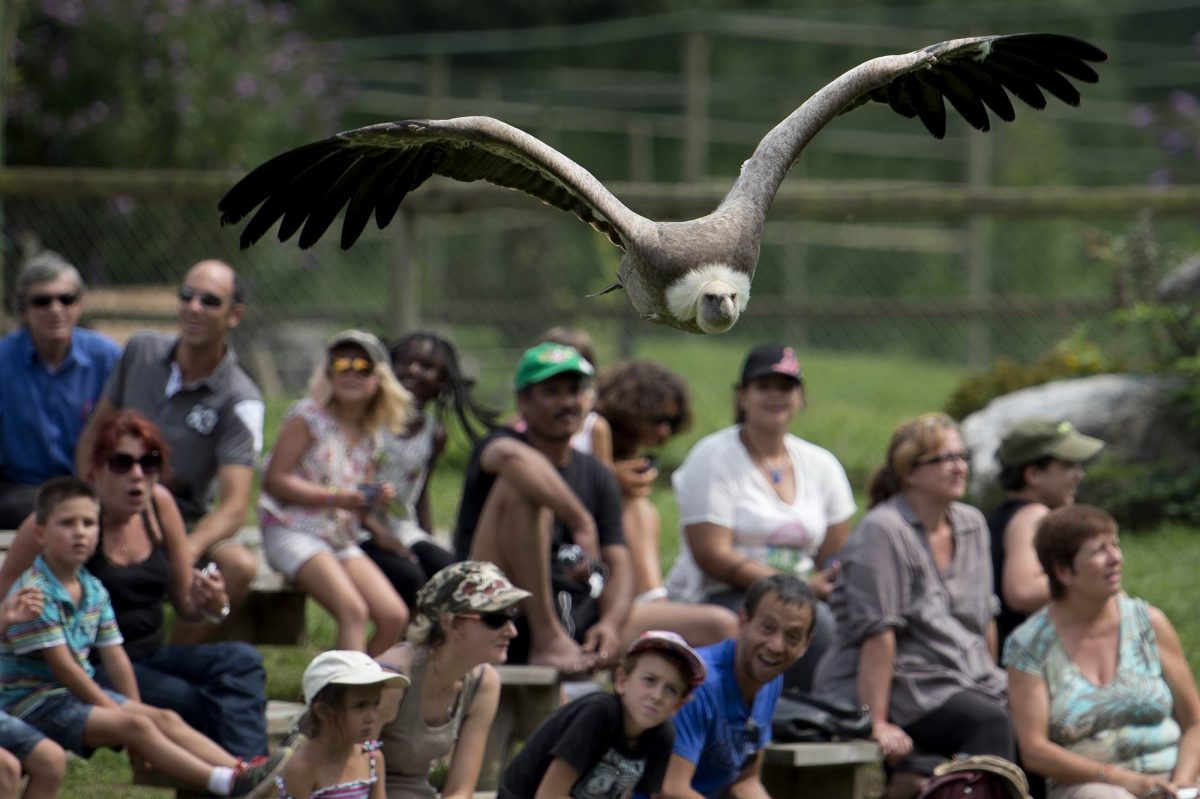 Company outing / Teambuilding
Your tailor-made events !
Outside the show season (June-July-August), Les Aigles du Léman offers you the possibility of completely privatising the site for your corporate event.
Un cadre unique pour scénariser et mettre en place des prestations originales.
The park provides a unique setting and a restaurant, wich can be used to prepare meals, apéritifs or cocktails etc…
An event at Les Aigles du Léman will enable you to obtain your event objectives,whether it be for:
seminars, team building, incentives, product or activity launches, company anniversaries, celebrating the history and unity of your business, building loyalty among your customers and partners, a prestigious event in the evening …
Les Aigles du Léman has 20 years of experience in the service of corporate events and a team of professionals at your disposal to prepare your event and meet the highest of expectations.
Choose us : for your employees, customers, suppliers… a unique opportunity to approach the most beautiful birds of prey through a photo shoot, small practice of falconry and shows. Above all, by holding you event at the park you will be helping to save these particularly endangered species.
Information et reservations
You want additional information or an appointment…You can contact us
by phone at 04 50 72 72 26 or by mail at : info@lesaiglesduleman.com.
Please contact us regarding prices.
Seniors
A memorable day !
Les Aigles du Léman gives you the opportunity to enjoy this the fascinating world of birds of prey. Discover the largest collection of birds of prey in the world (more than 80 species). You can either walk through our four hectares of the park or enjoy our two exceptional shows, which offer you the opportunity to approach the owls of our regions as well as the biggest predators of the skies (eagles, vultures, condor).
Two packages available in June
Self-service offer La Fauconnerie
Lunch on our private terrace in front of the largest aviary of birds of prey of the world while attending the mythical meal of the vultures.
Program :
10:00 am – free visit of the park
11am – "Lord of the Skies" show,
12:00 – lunch,
13:30 – "Birds of the Lake" show,
2.00 pm – Guided tour to be booked at reception*.
15:00 – free visit of the park.
Price: 31 € per person, from 20 people.
Discovery package: half-day package
Discover our space dedicated to birds of prey during a pleasant peaceful walk.
Program :
10:00 am – free visit of the park
11:00 am: "The Lord of the Skies" show,
12.00: departure for the restaurant.
or
3.00 pm – Guided tour to be booked at reception*.
Price : 12 € per person, for 20 people or more.
3.00 pm – Guided tour to be booked at reception*.
Reservations and information
If you require additional information, an appointment or you wish to obtain a quote and/or make a reservation, please don't hesitate to contact us by phone on 04 50 72 72 26 or by email at info@lesaiglesduleman.com.
You can also make a reservation via the form below.
If you would like to do a pre-visit: IT'S POSSIBLE ! We will be happy to welcome you and present our services to you.
Please note that the schedule of the shows is different in june (monday-tuesday-thursday-friday) due to the presence of the school groups – Thank you for your understanding.
Schools
Welcome…
On Mondays, Tuesdays, Thursdays and Fridays from 5 June to 7 July 2023, the park adapts its opening hours to school trips: 10am to 4pm.
The programme of the day: see the school presentation ⇒
WARNING: change of programme:
10am – Arrival
10.30am – Les oiseaux du Lac – 20 min
11am – Les seigneurs des cieux – 40 min
1.30pm – Les oiseaux du Lac – 20 min
3pm – Return by bus
Price :
10€ per child.
1 free accompanying adult per 5 children (€ 12 per additional adult)
Free entry for the bus driver.
To prepare for your visit, download our educational kits on raptors and vultures.
Guided visit 2021 !
It is possible to book the guided tour of "Terre des Aigles" (booking is requirming) –
Price: 2 euros/pers at an additional charge.
Reservations
If you wish to make a reservation, you can contact us by telephone on 04 50 72 72 26 or by e-mail at: info@lesaiglesduleman.com.
For all park reservations, please complete the form below.The fields marked with an *are mandatory.
Reservations
Pour toutes réservations concernant le parc, veuillez remplir le formulaire ci-dessous. Les champs marqués d'une * sont obligatoires.
Les réservations ne sont pas nécessaires pour les groupes de moins de 20 personnes.
ATTENTION: the equestrian falconry show is cancelled, the new programme is above.