External shows
Do you want to give a special and unforgettable mark to your event ?
Les Aigles du Léman can come directly to your place to perform different types of shows adapted to your needs and wishes for both the indoors and outdoors.
Some of these events include Elysée, Matignon, UEFA, FIFA, Awards of America, Rugby World Cup, Skiing and more.
We have 20 years experience performing in some of the most prestigious events around the world: London, Dubaï, Tokyo, Barhain and more.
Films et documentaries
Are you producer or film director, a nature documentary or a theatre play and you need a raptor ? Our team will put its birds and its know-how at the service of your project. Your choice of species, bird training, development of new techniques of filming… Our expertise is recognized worldwide and has made us one of the pioneers in this field.
Special events
Openings, award ceremonies, sporting events… The presence and performance of our eagles will give a new and unique twist to your event.
Falconry show
Discover the art of falconry and come in close proximity with the Raptors flying over your head. Le grand frisson au passage d'un aigle au-dessus de votre tête !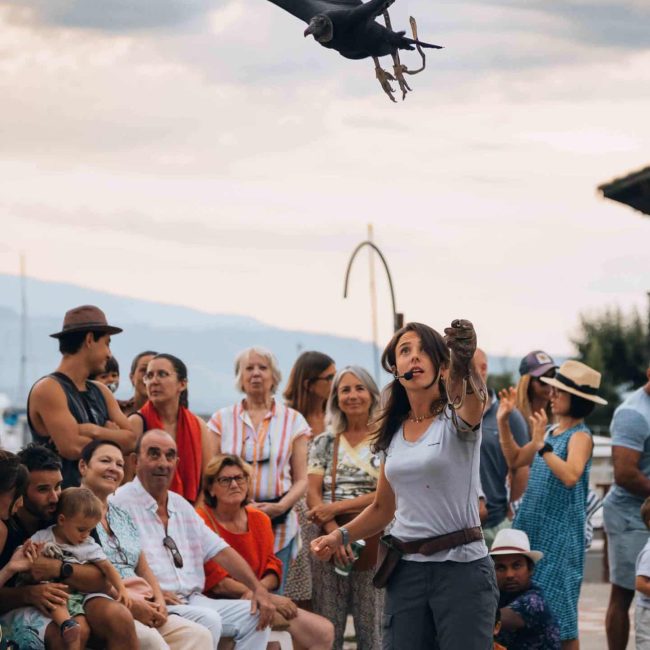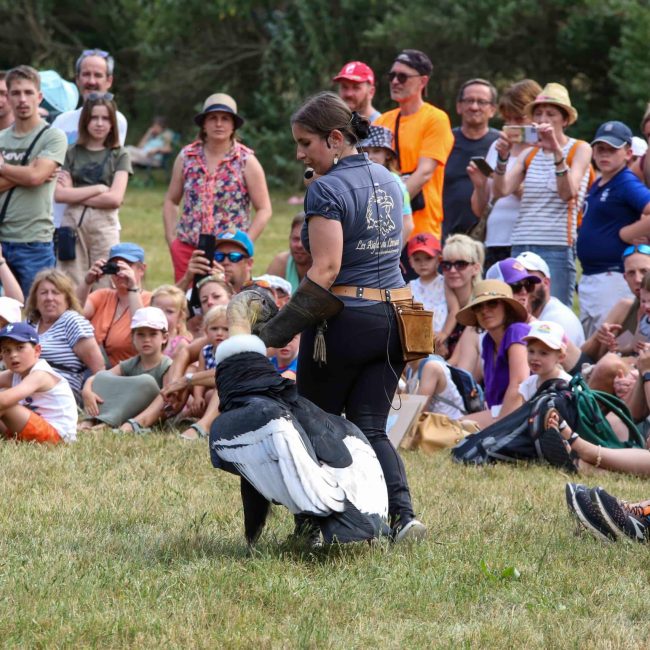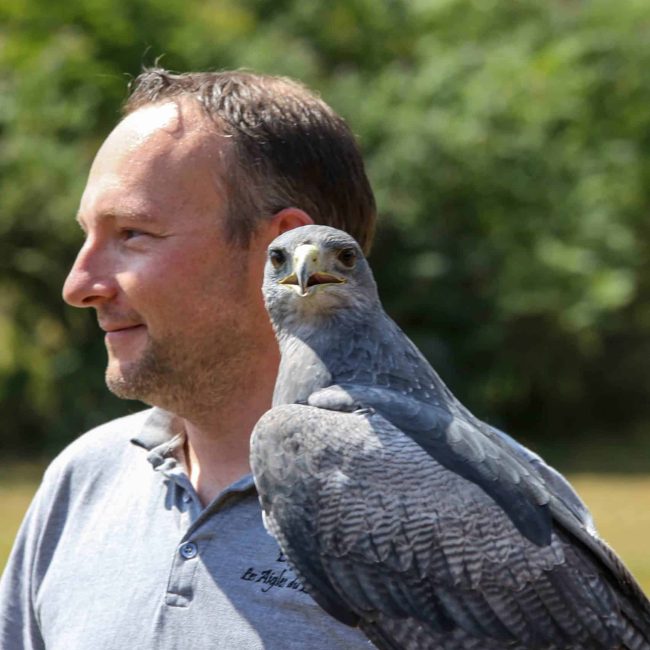 Middle age falconry show
Go back in time and dive into the world of falconry with the Lords of the Middle Ages. This show, performed in period costume, is particularly suited to medieval festivals.
Christmas show "The birds of Santa Claus"
An enchanting tale for both Young and old !
As is the case every year, Santa is overloaded with work. This year, he has asked his assitant, Isidore, to train an owl to help with his distribution of gifts. The birds is responsible for dropping the smallest packages in the narrowest of chimneys, where Santa has a little trouble going down.
Isidore's mission is to take care of the bird. Unfortunately, the assistant has used the wrong magic formula and has made the owl disappear. Fearing the reaction of Santa Claus, his assistant will attempt, will the help of the children in the audience, not only to hide the disappearance, but above all to find a 'replacement' for the bird. It is a series of adventures, which spectators will actively take part in and fall in love with the story, which will have a happy ending…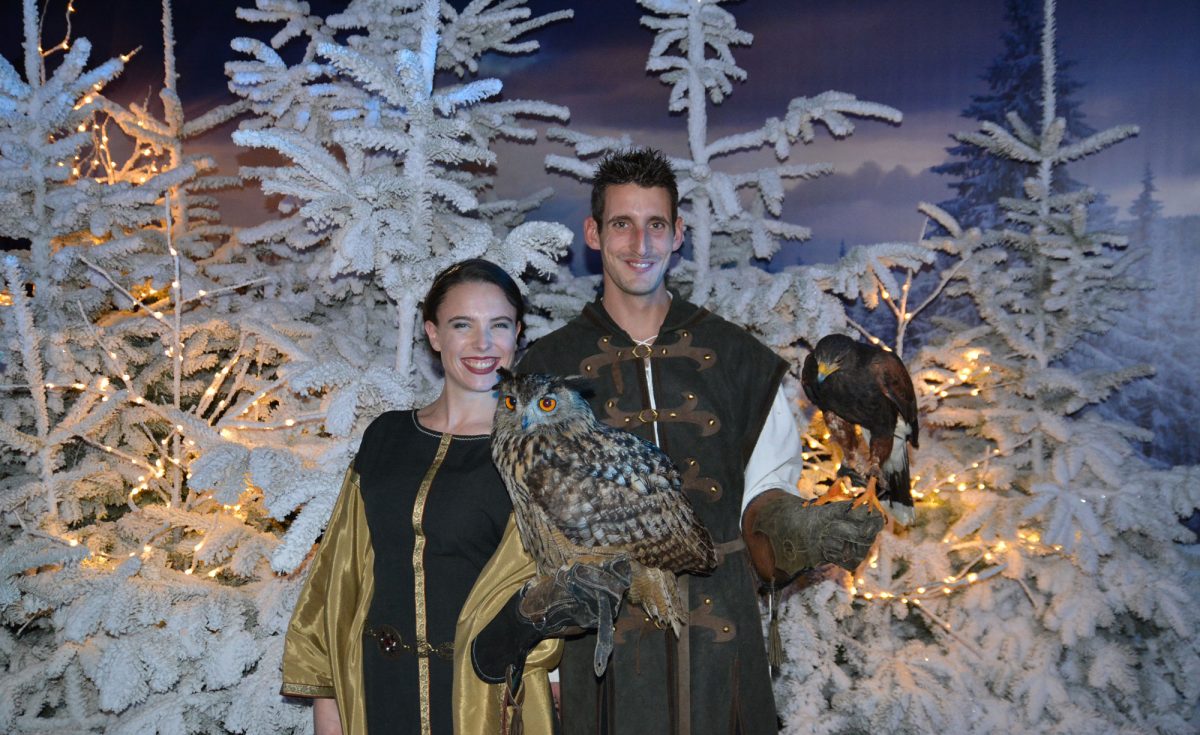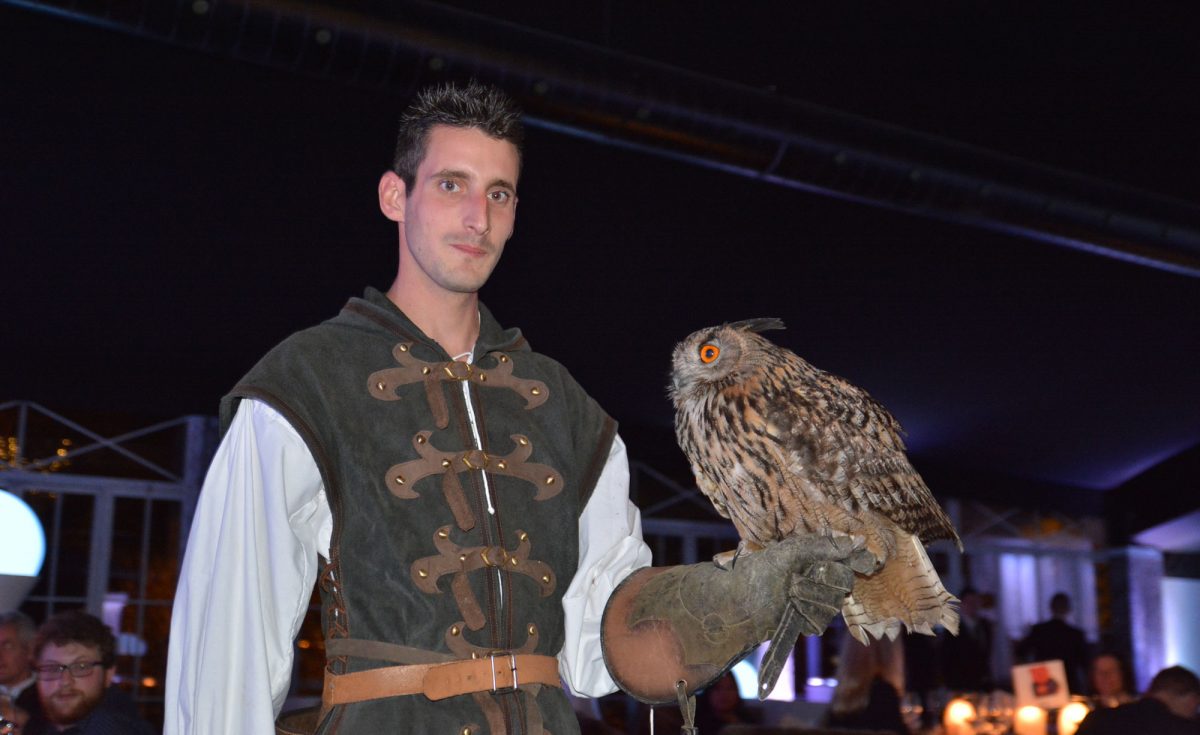 Entertainment evenings
During a meal, banquet, cocktail, birthday or wedding, our falconers will welcome your guests with style, whilst our birds move amongst your guests. Memories and amazing pictures guaranteed !